If you're thinking about upgrading or replacing your system, you might want to consider an HVAC package unit — offering a combination heating and cooling system that is flexible, space saving, and energy efficient.
Differences between an HVAC package unit and a traditional system
As the name implies, a packaged HVAC system contains all of its components in a single unit, which is placed outdoors.
This is far different from a traditional solution with multiple separate components, including a furnace or heat pump and split-system central air conditioner. In fact, the typical AC system alone has three or more components: an outdoor condenser and compressor unit, an indoor evaporator coil unit, and at least one air handler for moving cooled air through the ductwork.
Otherwise, a packaged system generally heats and cools the same way that its stand-alone counterparts do.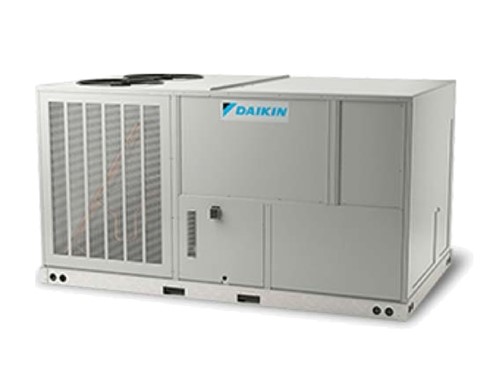 Sized right and located outdoors to meet a building's needs
HVAC package units are available in small and large sizes to meet different needs based on a building's heating/cooling capacity and installation requirements.
Smaller package units are often used for heating and cooling private homes in parts of the United States where houses don't have crawl spaces or basements. In fact, the units can be used in any small building where there is little room indoors for a furnace along with the AC coil and air handler required for a split system.
Here in Wisconsin, a larger HVAC package unit is often used for commercial and multi-tenant residential buildings. The unit typically sits on the roof, although it can be installed on a concrete slab next to the building's foundation, the way the smaller package units are installed.
Rather than having to connect with various components in the building, with a packaged system the air supply and return ducts exit the building through an exterior wall or the roof to connect directly to the ground level unit or rooftop package unit, respectively.
Different HVAC package unit configurations
An HVAC package unit comes in a variety of all-in-one heating and cooling configurations.
All of the options eliminate the need for a separate indoor furnace. So, the choice often depends on which type(s) of energy is used or how efficient the unit is for a particular location and heating/cooling requirements. For example:
A packaged air conditioner houses all the elements of a split system AC — compressor, coils, and air handler — along with some heating capabilities using electric heat strips or heating coils. The unit offers an all-electric heating and cooling solution that is appropriate for warmer climates where heat is needed only occasionally.
A packaged gas-electric unit includes an air conditioner, a coil, and a natural gas or propane furnace in the same outdoor system. It combines electric-powered AC with the efficiency of gas-powered heating using the same ductwork.
A packaged heat pump includes the AC components along with a heat pump and an air handler to both cool and heat a building. The unit is an all-electric solution more commonly used in areas where temperatures rarely drop below freezing.
A packaged dual-fuel unit, includes a heat pump for heating and cooling along with a gas furnace. Basically, the system is designed to automatically use the most efficient heating method — electric or gas — based on the conditions.
When only moderate heating is needed, the system uses the heat pump mode to deliver warmed air. But when temperatures drop below 25°F, the system switches over to gas furnace mode to provide reliable, consistent heat.
In places like NYC and the northeast, these dual-fuel systems offer the benefits of a heat pump for cooling and light heating plus the heating power of a gas furnace for when temperatures get cold — again, all within a single HVAC package unit.
In addition, heat pump functionality reduces the amount of gas used to heat your building throughout the year, to reduce your overall gas bill.
Benefits of an HVAC package unit
For commercial and residential buildings, an HVAC package unit is a self-contained heating and cooling system with a number of attractive benefits.
Fast, easy installation: Because an HVAC package unit is an all-in-one solution, it takes less time to install than a system made up of multiple HVAC units spread throughout a building (which keeps your installation costs down).
Optimized use of space: Rather than taking up valuable indoor space, an HVAC package system lets you reserve those indoor areas for additional living or income-generating purposes.
Streamlined maintenance: Because all the components are in a single, easy-to-reach location, an HVAC package unit is faster and simpler for a technician to service and maintain — which means less time on the clock and less cost for you.
Lower energy costs: As an all-in-one solution, an HVAC package unit doesn't have to work as hard as a multiple-unit system — potentially giving you greater energy efficiency and lower energy bills.
Flexibility: With the choice of unit sizes and heating and air conditioning configurations, an HVAC package unit lets you tailor your heating and cooling solution to your needs.
Is an HVAC package unit right for you? With all the available options, it can be difficult to choose the best one for your needs. Contact the experts at Bartingale Mechanical for more detailed information about what would be the best option for your space.